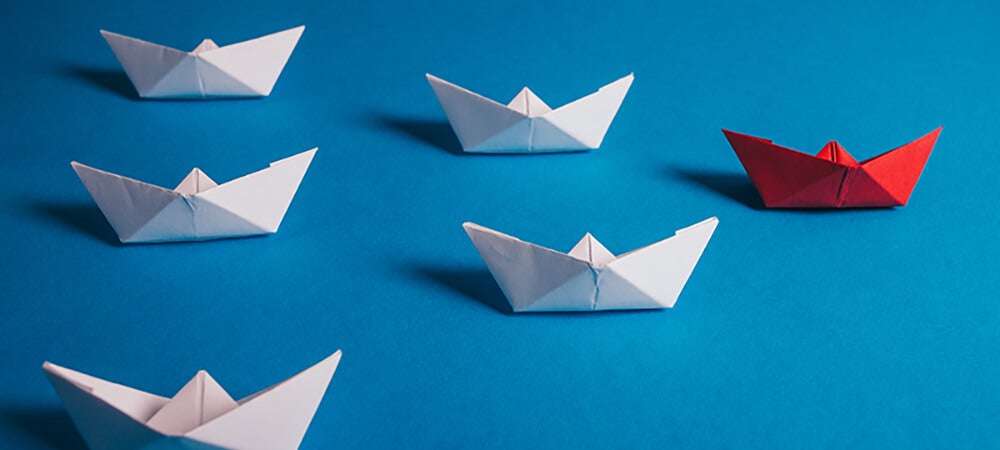 The traditional path to get ahead in business has been to study an MBA with its focus on key business functions such as accounting, finance, marketing and operations management. But what if you already know enough about these areas or you can learn them on the job? A master's degree in leadership focuses on improving your ability to influence others and build high performing teams.
So, which is the right postgraduate degree to gather more followers? What type of leader do you want to be?
Dr Andrea North-Samardzic is the Course Director of Deakin University's Master in Leadership and encourages people not to label themselves as a leader. Transformational, servant or situational – she says there's a time and a place for all these types of leadership skills.
"Being able to be flexible and adaptive is increasingly needed rather than simply putting a badge on yourself, because sometimes you need to be a manager more than a leader."
"A good leader is a person who knows when to turn it on and when to turn it off," Dr North-Samardzic declares.
According to Dr North-Samardzic, "If you can have managers who are also leaders… then one of the world of work's great challenges has been solved."
The Master in Leadership provides this level of understanding and assists you to apply it across a range of contexts. Whether you're working in business, the not-for-profit sector, as a school principal, or in government, this course is designed to make the most of your professional environment.
Deakin's unique credentialling process recognises your work experience so that you can complete your degree faster. The online learning environment delivers all course materials at once so that you can binge-learn if you're that way inclined or take it in bite-sized chunks.
These features also create the following four advantages in the battle between MBA vs MOL.
1. Peer learning with the ultimate network
The online learning environment puts you in direct contact with others who are working and studying the Master in Leadership. Dr North-Samardzic provides the academic context and expertise but finds it's the networking that helps students solve problems in real time.
"The fact that you're working with people who are in similar stages in their career, perhaps encountering the same leadership problems or concerns – it makes the peer learning environment really valuable."
The peer learning is especially effective because of the course's practical activities which are created specifically for the workplace.
2. On the job learning
Dr North-Samardzic says what's distinctive about the Master in Leadership is that it facilitates on the job learning, strengthens your existing skills and enables you to put your learning into practice.
"We make the workplace your classroom, so there's no essays or irrelevant case studies. All activities are work-based learning and development activities."
The course is designed for people in leadership roles or on the cusp of their leadership career, which means all students have the opportunity to exercise leadership in a real-world setting.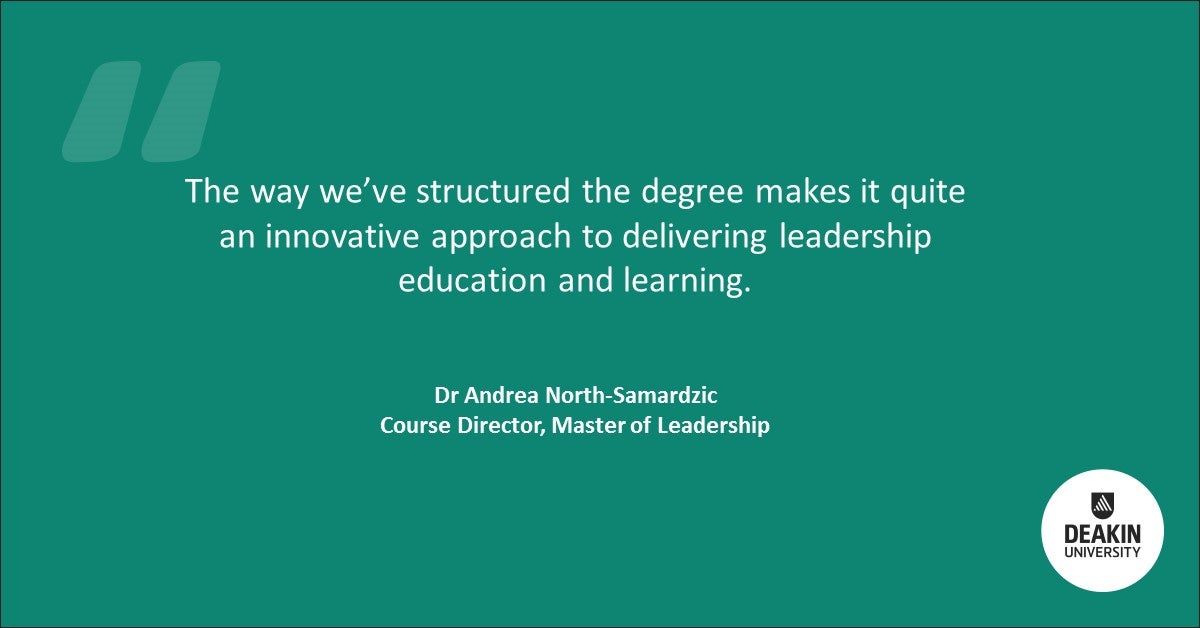 "Every single week there will be short work-based activities related to leadership practice. So, it gives you a new framework, approach or idea that you can practice immediately at work."
Further to providing the knowledge, skills and abilities to lead, this process attracts instant feedback from your colleagues in your workplace. You'll also have the opportunity to actively research and investigate issues that are relevant within your own workplace.
3. Self-reflection
The Master in Leadership also emphasises the importance of self-reflection, not only for postgraduate business education, but particularly for the discipline of leadership and the careers that follow.
"For effective leadership you really have to engage in self-reflection. If you can self-diagnose what your weaknesses are, what your challenges are, before someone else tells you then you're in an amazing position."
Dr North-Samardzic highlights how the need for self-reflection was revealed during the parliamentary review of the four major banks.
"The CEO of NAB said that banking shifted away from a customer focus twenty years ago.  How could you not see problems developing over two decades? With the Master of Leadership, we're forcing you to be self-reflective, so you'll be able to see those problems coming a mile off."
4. Bigger return on investment
The Master in Leadership costs a lot less than an MBA, which is a big selling point if your employer is going to sponsor your learning. More importantly, the course doesn't take you away from your day-to-day job, put you in a classroom and split your focus.
You'll have opportunities to enhance your current role and leadership practice with immediate positive results for both you and your workplace.
"Imagine you're doing an MBA and you're studying accounting but that has nothing to do with your current or future role. How useful is that going to be to your organisation? No matter what your role is or what stage you're at in your career, we can all become more effective at leading others. When you study a Master of Leadership then you can immediately start to think about different ways to persuade and influence people that you're working with."
To learn more about our Master in Leadership online program, download a prospectus by clicking on the button below: