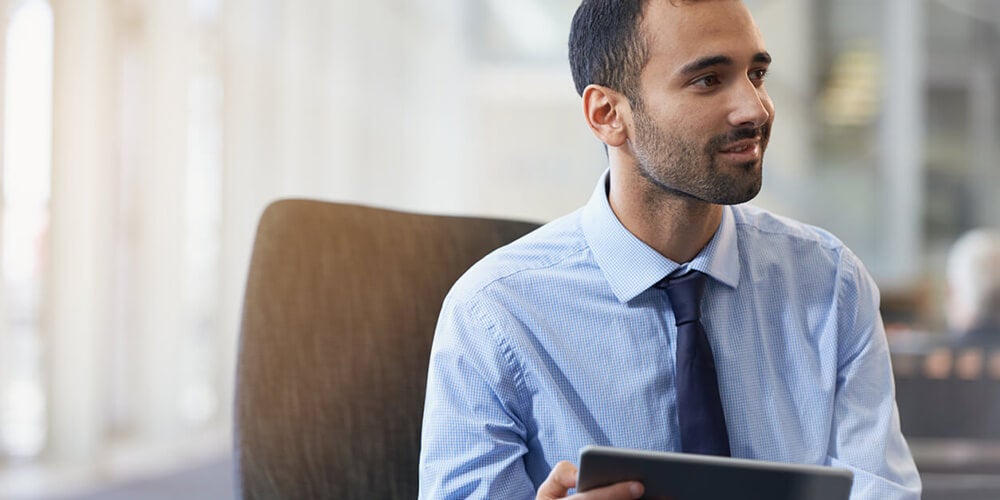 Your workplace is the best place to learn leadership expertise and now you can enhance your skills and be acknowledged for your existing abilities with Deakin University's Master of Leadership. Using reflective practice, many of the skills you've already learnt or are learning on the job can be formally recognised in this professional practice degree.
When was the last time you reflected on your workplace learnings?
In the past, the workplace was studied extensively to develop theories of motivation, management and leadership. Taylor, Weber and Fayol observed workplaces and proposed principles of scientific management, bureaucracy and administration that dominated the twentieth century.
However, by standing outside the workplace and looking in, they missed the importance of the relationship between the workplace and the individual.
Your learning at work is influenced by the unique combination of the people you work with, the physical location you work in, and the experiences you have with both.
Leadership is not necessarily about authority, control or management – it's about creating an environment with those people and in that location, where things can be accomplished.
Capitalise on your work experience
Learning on the job gives you a privileged perspective that won't be found in textbooks or lecture halls.
That's why the modern focus is less on learning from observations of work, and more on learning at work. By critically reflecting on the situations, challenges and change that you've experienced, you can improve your understanding of leadership frameworks and get a richer understanding of leadership practices.
Your workplace is a learning environment where you can fine-tune your approach to leadership and have an immediate impact on the current leadership challenges in your business.
Learning through reflective practice
Most of us have experienced poor leadership and many of us have been lucky enough to encounter good leadership.
By studying the Master of Leadership, you'll have the opportunity to apply leadership concepts and frameworks to your own experiences. Through this lens, you can analyse your own leadership abilities.
By reflecting on your past challenges and issues you can make improvements to your personal leadership style. You can expand your repertoire of leadership actions and incorporate new styles and behaviours.
The workplace becomes the classroom where you can implement your learnings through reflective practice immediately. This gives you the opportunity to review and refine your leadership practice in real time.
Credentials are formal recognition of your experience
Deakin University's Master of Leadership is a Professional Practice Degree, which consists of two units, 10 Professional Practice credentials and a double-weight capstone unit. Your work experience is formally recognised, so that you can complete the degree in half the time and at half the cost.
Learning on the job you have helped your team improve their performance, talent and capabilities. You've modelled and developed a positive mindset and behaviours with your colleagues. You've lived the experience of leadership on the front line and as part of a team.
Professional Practice credentials will assess your performance at master's level, through evidence, testimony and video testimony. As part of your reflective practice, you'll collect examples of your work that will support your reflective testimonies.
Professional Practice credentials can be completed online and alongside the three units of formal study. You decide when you do them and in what order. Deakin's Professional Practice credentials give you the flexibility to complete your postgraduate degree faster, while still working at your own pace.
Focus on your workplace for the major research project
The third unit of formal study is a research project that really converts your workplace into a classroom. In this capstone unit, you'll conduct research through surveys and observation, in your own place of employment – to create a report and provide recommendations on how the leadership can be improved.
You don't need to be in a leadership position to complete this task. You can take a bottom-up approach to review the performance of leaders from the perspective of a team member.
In addition to applying the leadership skills you've learned in a real-world situation, the capstone unit gives you the opportunity to rub shoulders with the leaders of your employer. It's a unique opportunity to take your learning on the job and demonstrate your potential for promotion.
The workplace as a learning environment
As a Professional Practice degree, the Deakin Masters in Leadership online has been created for busy working professionals who need the acknowledgement of their skills and experience through a faster and more cost-effective postgraduate degree.
Whether you're leading formally or informally, through your workplace learnings you have already developed the skills, experience, and potential for leadership. Now you can have those skills formally recognised as part of a postgraduate degree for a fast return on investment.
Rather than re-visiting what you already know, use your master's to refine, enhance and capitalise on the skills you've developed in your workplace.