IT leaders face some unique challenges. In addition to the traditional skills required to lead, IT leaders must have the ability to manage rapid and constant change. This often involves a delicate balancing act – between engaged IT team members who thrive on the bleeding edge of technology and other staff in the business who are still getting used to legacy software.
So, with these unique challenges in mind, what makes a great IT leader? It takes the right mix of technical skills, soft skills and a desire to be a great leader – all of which can be learned. Here are five essential qualities for all IT leaders to get you started.
Technical skills
As is the case for most industries, the path to IT leadership is usually paved with hard work and experience in a broad range of activities. After all, there's no point assuming the role of leader if you don't know what your team is talking about. Having technical skills in IT also gives you the ability to identify problems, innovate solutions and deliver outcomes.
When Chief Technical Officer Andrew Jordan joined Carlson Wagonlit Travel (CWT) in 2016, he realised that technology in the travel industry was lagging behind other industries. With his technical experience in the digital transformation of the media industry, he could see plenty of room for improvement.
What makes him a great IT leader is what he did next – or more importantly what he didn't do. He didn't try to do it all himself.
Andrew hired the travel agency's first Chief Data Scientist and delegated the building of a data science team to him. He then got CWT's CEO on board to digitally transform the company into the 'Netflix of travel.'
Technical skills are essential for great IT leaders, but you don't have to know everything. It's more important to ask the right questions, rely on your team's expertise and ensure you can translate technical information for both internal and external stakeholders.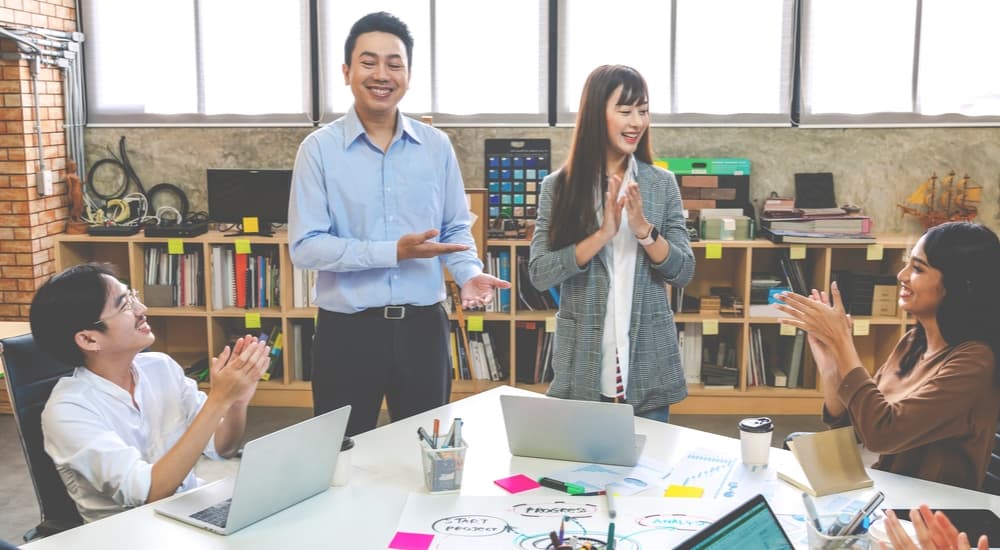 Self-awareness
"Know thyself" is an ancient Greek maxim that has been around for at least two millennia and it still sits at the heart of most leadership training. Self-awareness and personal reflection can provide insights into your own strengths and weaknesses as a leader. These are things that others may react to in negative non-verbal ways, rather than discussing them with you directly.
When self-awareness is combined with effective communication, you get emotional intelligence – the ability to accurately express your feelings. In busy, stressful environments, it's not uncommon for people to bottle up their emotions or to occasionally explode without warning. Emotional intelligence also involves reading the room so you can adjust your message to appeal to your audience.
At the London School of Economics and Political Science, self-awareness recently played a role in a large organisational change. There were several staff changes in one of the IT teams, so Director of Data and Technology Services, Laura Dawson wanted to find out what was causing the disruption. Rather than asking questions directly, she brought in a third party to conduct a review. Laura then made a pact with herself not to get defensive about the issues raised in the review. As a result, she was able to deliver what her team needed and ensured a smooth start to the academic year, much to the surprise and delight of her colleagues.
Respect 
Leaders sometimes misunderstand the relationship dynamic between themselves and their teams – thinking that their title demands respect. Once upon a time, this might have been the case, but in an environment of constant transformation, IT leaders must earn the respect of their team. It's something Brandon Swenson, CEO of SEO Pros is constantly working on.
"Earning respect is crucial to a successful relationship with someone, while also showing that you care about their work or ideas. Being empathetic allows a leader to tap into the emotions of that individual in order to connect in a way that lets that person know you understand what it means to be in their situation."
With respect comes trust that a leader will never put their own goals above the team's or the organisation's. In fact, in reciprocation of that trust, a great IT leader will put their neck out and back their team when necessary.
By developing respect and trust, great IT leaders can give employees more space to innovate, more responsibility to get things done and more satisfaction in their work. They can also return the respect and trust by telling the executive and the rest of the business how great their team is.
Purpose
Some of us have been lucky enough to work with a leader who truly inspires. They have a vision that they can share with a team, and then they inspire that team to buy into and own the same vision. It gives employees a sense of purpose which makes them more productive and more satisfied in their job.
Great leaders do this by gaining an understanding of their employees' internal motivators. Then they speak directly to these values and desires with purpose.
An IT leader who leads with purpose is Andrew Quail, Director of IT and Innovation with energy supplier SGN. Andrew had a vision of enabling the organisation's 5000 workers in the field to embark on work in minutes rather than waiting months for approvals. He created cross-functional, multi-disciplined teams to unite IT staff with other business units and introduced agile tools like Kanban to improve workflows. After a two-year migration to the cloud, his vision was realised.
As an added bonus, his purpose-driven IT team is now viewed as a facilitator of change rather than an inhibitor.
Communication skills
One thing that is common to all great leaders is communication skills. Now you might think this simply means you have to have the gift of the gab, or the ability to speak well. But communication is about more than just speaking skills – it's also about listening. Not just waiting for your turn to speak, but really listening to understand the thoughts, feelings and emotions behind the words. Listening skills are essential in meetings, negotiations and in gaining the respect of your team.
All of the skills of a great IT leader can be learned with Deakin's online Master of IT Leadership which can be undertaken part-time and online without interrupting your career.
Learn more about the Master of IT Leadership online, our innovative Professional Practice degree where you can use your experience to gain a master's degree. Call our enrolment team on 1300 043 524.