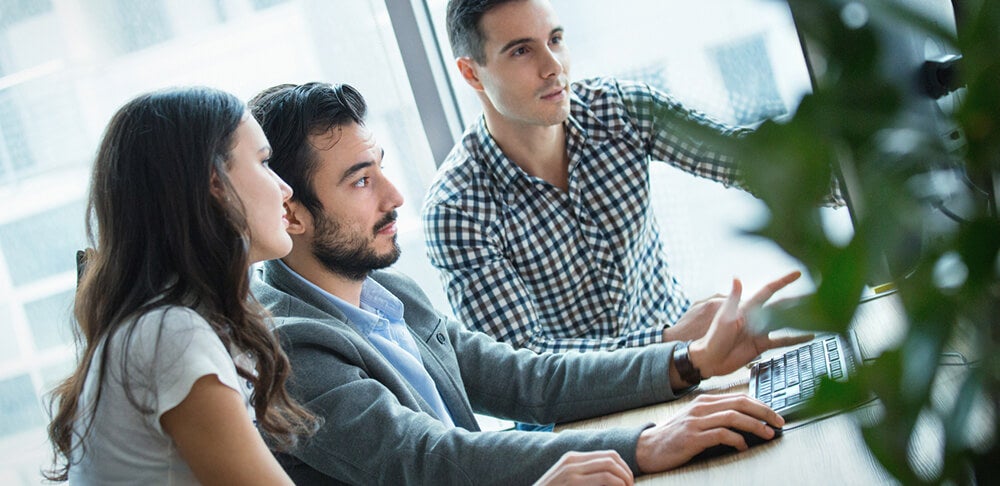 Information technology (IT) professionals often have a deep passion for computer systems and the positive impact they can have on all areas of life. We spend our working days on a network, communicating with others through emails, applications and dashboards – and our heart sinks a little when we have to unplug and go to a meeting. Oh, the humanity!
Switching our brains from the logic of coding languages to nuanced interactions with other people can be a challenge, which is why IT leaders need to have strong soft skills such as communication, teamwork, ethics and critical thinking.
With technology, it's much easier to flick off an email, post on a dashboard or Slack someone, even when they are sitting right next to you. Of course, there are practical reasons for this, including:
It creates a digital record which is easy for both of you to refer to
You don't interrupt them at an inconvenient time; and
They get to keep their headphones on and keep coding.
However, you're passing up an opportunity to listen to your team and to have them hear you. Disembodied electronic messages convey no emotion and are open to misinterpretation without the body language and tone of voice of a face-to-face message.
Sometimes, it takes a human approach
You know your team's abilities and outputs, but do you know how they feel about their work? It's not unusual for somebody to be extremely competent in a role that they don't enjoy.
Think about your best bug-fixer: they're fixing bugs as fast and effectively as ever, but maybe they've stopped fist-pumping the big wins. Worse still, they could be arriving late and leaving early.
Technology also has implications for leadership ethics. IT managers often have the ability to access staff emails, computers, or even to know exactly where an employee is, because of the office equipment they are using. These access privileges often require an ethical decision – one that doesn't have a clear right or wrong answer.
Successful leadership in IT requires a 'human' touch. To lead is to empower and support a group (of humans) to achieve a common goal. Understanding technology is one aspect of IT leadership that is outweighed by the need for communication, teamwork, ethics and other soft skills.
The customer doesn't always come first, employees do
Customer satisfaction is the ultimate goal for almost all business activities, but not necessarily for IT managers. As an IT manager, your primary concern is your team. They need you to be a caring leader, to enable and support them to deliver their best work. If your team is performing efficiently, effectively and happily, the results will be plain to see. Your customers will receive better outcomes, in a timely fashion, from your engaged employees.
Servant leadership is gaining in popularity as technology is becoming a larger part of modern working life. Rather than seeing leadership as a dictatorship, servant leaders focus their efforts on developing their team.
This can be as simple as finding out how your team like to be praised. Most people forget about annual bonuses and pay rises over time, but they'll remember the time their boss thanked them personally or acknowledged how hard they had been working.
It can be as complex as personal development programs that involve coaching and mentoring. A good manager will do whatever it takes to develop their team into a high performing unit.
Ask your best bug-fixer if they're enjoying their work, or if there's another area on which they'd prefer to work. They may want to develop their other IT skills, maybe even their training skills to bring up the next generation of bug-fixers. By engaging with them, you'll help to keep them motivated so they remain a valuable part of your team.
Putting the humanity into IT leadership
Deakin University's Professional Practice degrees have been designed to give you the ability to lead with a 'human' touch. The fast-tracked Master of IT Leadership online program can be completed in 12 months while you work, enhancing your capabilities through reflection and industry-based learning.
Unlike other degrees, the Professional Practice degree uses micro-credentials to recognise the skills you've already developed in the IT industry. Each credential relates to a quality that is highly valued by employers and essential for leadership success.
For example, the Communication credential will ensure you are recognised for the skills to connect with individuals and groups both inside and outside your organisation. Whether it's face-to-face or online, you'll demonstrate your ability to communicate complex ideas to people of any technical ability. The Teamwork credential focuses on how you facilitate collaboration and high performance within your team and across other networks. Servant leadership plays a key role in promoting collaboration and knowledge sharing.
You'll explore the leadership ethics of today while developing adaptable tools and skills to manage tomorrow's ethical challenges in the constantly evolving IT world. Overall, you'll adopt a more 'human' approach, without compromising your passion for the potential of technology.
Learn more about our innovative Master of IT Leadership online, where you can use your experience to gain a master's degree. Get in touch with our Enrolment team on 1300 043 524.